My Favourites from London TechDay 2018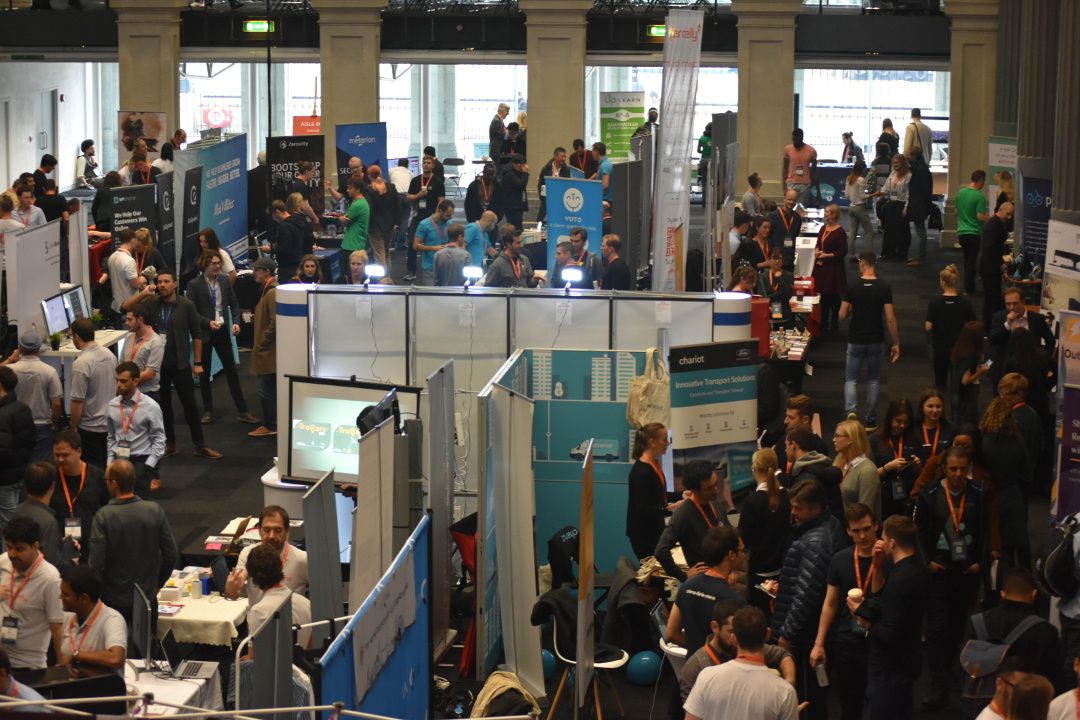 A couple of Fridays back, I had the pleasure of heading to London's TechDay event at Old Billingsgate. TechDay is an event which I'd previously never heard of, which was surprising to me as it focuses solely around bringing very early-stage start-ups into the public eye and keeping an eye out for great innovation. It's no secret that I love hearing about new technologies and ideas.
The venue was ideal, and despite there being over 100 start-ups in a relatively small space the day worked out really well. The Speaker auditoriums were upstairs in a mezzanine and the ground floor was dedicated to booths.
The event was aimed at all varieties of start-ups and not just my usual favourite of Security, so I found a diverse set of ideas with different target markets. Overall I must have met dozens, but here are my favourites.
Pretty much the first stand I walked past was one of the most memorable. Viddyo specialise in what could be described as 'scenes for logos', and what that means is - take your own logo and get it superimposed in a short video clip for brand and marketing purposes. Each combination of 'your logo plus a scene' is marketed as being a 'render'. The example I got shown was a haunted-house-themed corridor being flown down by the camera with ghosts moving around, and the Starbucks logo appearing through mist on the end wall. The hope for Viddyo is that Starbucks and others enjoy using this service to generate themed clips to load up on their coffee shop TV's nationwide, or perhaps on advertising media provided by the likes of JCDecaux.
The caption in the picture I took of their booth is near enough true - 'three clicks' is a slight exaggeration but it really was very easy. Choose a scene, upload a logo, click Render (performed in AWS) and you get an MP4 file at the end of it. Interestingly you pay-per-render - meaning that if Starbucks really wanted that stylised clip of their logo for Halloween, it would only cost them about $30.
An ideal companion for this is HyperVSN Hologram displays by Kino-Mo, and I'll be linking the two up to hopefully get great traction for the complimentary companies.
Take AirBnb, Match.com and then inject the concept of childcare nannies, and you have MyTamarin. There were several 'matchmaker' stands across the event and all across different industries (job hunting, dating, B2B). Of them all, I thought this was the most novel and honestly the most likely to be successful.
If you're a new parent or a parent with young kids but also someone who is business-business-business, then finding time to fulfil both roles can be tricky. Obviously your children come first, but if you're not nailing down the business side you're perhaps putting the volume of bacon being brought home to the household at risk. So in some cases a live-in nanny may be ideal to help look after baby in their first months, and keep kids entertained if they're older.
At the TechDay booth I created an account and had a play on the system - for a start-up it's pretty much complete and just needs to attract a large user-base. The site asks you what you're wanting to get out of it, the child's age, how you take care of them now, what you'd want from an experienced nanny and so forth. Then you hit 'Find' and the nannies begin popping up one-by-one. If you like a nanny, you favourite them for later, if not you click a button to tell the system why they're not suitable for you (perhaps too expensive or the wrong type of carer) and it learns before re-running the search and bringing up a new set.
The demo is way better than me rattling on, but overall I think it has potential. Perhaps not at scale with most of the country, but I can imagine extremely devoted careerists in London would find the service useful and have the spare cash to afford a nanny in the first place.
HeadLight AI is a simple idea with some very advanced tech. If you want to do underground surveying, or surveying in an inhospitable or difficult to access area, you'll typically use a robot or drone of some form. Normally this robot has a giant flashlight and video cameras, and you'll just get back flat 2D video. Whilst the video may look good, it lacks depth, direction, and it is difficult to create a 3D model of an environment with just a video.
So, the Headlight AI drone has radar, LIDAR, ultrasonic rangefinders and much more to take 'point data' and generate a 3D map render of an environment. Photos or videos can then be overlayed where needed. The example in the picture above is a narrow underground sewage duct (unused) that was due for routine inspection. Sending a human down is unpleasant and they'll bring back a written report and a couple of photos at best.
I also see a big use in the film industry. I remember hearing that Lidar technology is being used to scan film sets and then generate a 3D render. This is then used by production teams to create a like-for-like copy in another studio (perhaps on the other side of the world) for filming, or imported into 3D animation and CGI tools such as Maya. I can't see why the HeadlightAI drone couldn't be used for the same purpose.
The AdMeNow stand might have been my favourite over the whole day. The white unit in the photo above is what they're selling. It's core concept is advertising, with a secondary function being customer experience. AdMeNow will sell you these units which are placed across tables in cafes, bars, coffee shops and so forth. The small interactive screens let customers read up on the news, weather, or even play a game of chess. When not being used, the units time-out to whatever advertising content has been uploaded to it that day, hence the name 'AdMeNow'. These ads could be for items and services related to that eatery like Starbucks showing off their Pumpkin Spice Latte's, or it could be something from an entirely separate company. Then, AdMeNow and Starbucks jointly make a bit of ad revenue.
Now whatever you think of mass advertising in today's world, you have to admit this is a clever idea. The customer could of course throw a napkin over it, and that's something AdMeNow will have to accept.
But, what's the benefit for the customer? If there isn't one, this would just be a brash and unpleasant addition to shops and probably wouldn't go down well with customers. The secret is that each unit has a 40,000 mAH battery in the base, and cables with adapters to fit all phones. Now, when you get a sandwich and coffee from Pret, you also get to have a few minutes charging your phone while you eat.
It's a really simple idea that probably took a lot of work to execute. As much as I'm usually against pervasive advertising, I also want to see it become a little successful just for the ingenuity factor alone.
Peyk are going to be the Uber for couriers. If I'm standing in the middle of the streets in London with a package that I want to send a couple of miles away I'd usually have to haul it with me on the tube, bus, or in a cab. Depending of the size of the package this could be inconvenient and costly. What Peyk lets me do is open their app, declare the size of the item/s and the destination and an Uber-style courier-to-customer match takes place. The couriers who are waiting on nearby streets are offered the job and whoever is nearest or accepts the job first gets to meet you, take the parcel, and then take it to your destination. At each stage the app requires some validation from both parties to say that yes, Sam did give the expensive item to the Peyk courier, in a bid to prevent theft. Predominantly the app is meant for cyclists and moped-riders for the speed of getting around London, but I'm sure cars would work in the suburbs.
I like the idea because it makes door-to-door delivery an even easier commodity. We see couriers flying around cities all the time but they are often business to business carrying documentation, or in the case of UberEats and Deliveroo it is food. Why couldn't I order something on eBay, and then have 'via Peyk' as a delivery option? I could have my item the same day and not have to go to that person's house for 'Collect Only' eBay auctions. The courier brings me the item.
My only concern for Peyk is that Uber or Deliveroo don't come along and steal their idea. Since they've got the existing workforce signed up with their services, it wouldn't be too hard to add 'items from A to B' as a service. The Peyk rep told me they're going to prototype US cities next after they've conquered London so hopefully they get enough traction internationally to make them a household name and a competitor to the likes of Uber.
Finally, another 'matchmaker' service. This stand did mostly come over as a bit of a novelty to me. Unless your cat is seriously needy, they're predominantly very independent pets who look after themselves when they have to. If you're out at work or away for a day or two and need someone to come in to check on your cat, you need to give that person prior access to your home and trust that the 3rd party (Cat in a Hat) has done their due diligence. Maybe I'd understand a Dog Sitting service a little better, after all Dog Walkers are already pretty popular, but Cats I think is a solution looking for a problem.
Nonetheless, I like the fact that someone has had an idea and come this far with it. Perhaps there is a need for feline care that I don't know about. Either way, I wish them luck!
That's pretty much it. I hope some of these ideas were of interest to you, as they certainly were to me. Thanks for reading!
---
The thoughts and opinions expressed in this post are mine alone, and do not represent the opinions or standpoints of my employer.